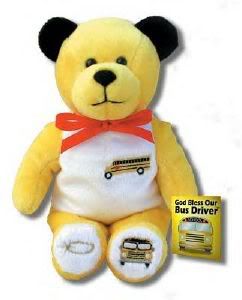 The summer is moving along...traffic is awful! I go during the morning rush hour and then when I go get my child it's lunch time and everybody is out on the road for lunch. So many cars, trucks, semis, so many many people! On the way back to base after I drop him off I take the different way home, I take the more scenic route, instead of strip malls and semis, I see large beautiful homes, and gardens, with huge trees.
I love the summer, it's so nice and slow paced, A girl could get so spoiled!
This fall we are having to contract out part of our district. Which will be 22 buses, 1 high school, 1 junior high, and 3 grade schools. It will for us to prove how worthy we are of our jobs. Many school districts in this area are going to contracted companies, which I don't agree with, corporations couldn't possibly have the same attitude as a home town bus driver. Ah change, I used to resist it with a passion, but I've aged and mellowed, and tend to go with the flow. Things alwasy work out anyway. Plus makes for a happier ROSE!
Ok I am off to enjoy the start of my weekend!